The Reunion
In 2002, Detlef Petersen and Alex Conti faced the fact of their LAKE "addiction" and decided to check out suitable players for a possible reunion. "Without Detlef, I would not have re-ignited this project", Conti stated in 2003. A further protagonist of those early days was taken on board – Ian Cussick, another Scotsman, (and founding member) who had managed to secure an impressive solo career during the 1980s and with him, the LAKE legend had actually began in 1973.
Mickie Stickdorn, an experienced drummer with the Rainer Bauman Band was up for joining the new formation - having also played with Inga Rumpf, Hamburg´s ex-Rattles singer Achim Reichel as well as Rosebud and Elephant, played next to Hamburg Blues Band bassman Bexi Becker, who confirmed: "LAKE were my boyhood heroes!" They were subsequently joined by keyboard and soundtrack specialist George Kochbeck, who had done numerous projects with Alex Conti.

Initial rehearsals and demo recordings sounded promising, until a stressful Live date allowed old demons to raise their ugly heads and showed the band that Cussick was still as excellent as he was eccentric.
Whatever – LAKE found a worthy successor in Scotsman number 3: Mike Starrs. He was as well known in London as he was loved in Hamburg – having been front man and vocalist for Jon Hiseman´s Colosseum II as well as hard rockers Lucifer´s Friend. Apart from that, British country fans had known him for years as Angel Montgomery.

THIS LAKE band has been touring steadily since May 2002, re-constructing their combination of class harmony overkill and high adrenalin riffing and lovingly re-creating unforgotten classics like "Jesus Came Down" or "Red Lake" on a never-ending club tour. In February 2004, George Kochbeck decided to leave the LAKE re-incarnation – being totally swamped with film and TV music projects. He was replaced by the experienced and formidable Atlantis veteran Adrian Askew.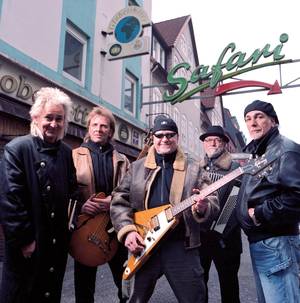 Once again, cries for a LAKE comeback album became louder. The well-oiled new line-up reacted in 2005 with BLAST OF SILENCE – and according to Mickie Stickdorn, "it was recorded in only twelve wonderful session days, with the complete package done and dusted!" LAKE guitarist Alex seemed to have found his ideal line-up, but confirms that the doors remained open for the legendary "Mark II" section of Tiefensee- Ahrendt-Peacey-Petersen.

Certainly, the compositions on the new album sound as inspired as those of the "classic" LAKE era – featuring tremendous songs, raunchy riffs and swirling Hammond organ outbursts. Vocal power blasts in solo renditions courtesy of Mike Starrs and also in the high harmonies of Conti-Becker-Stickdorn-Askew, aided by a precise rhythmic engine room with tons of spare energy – and of course the inimitable guitar courtesy of Alex Conti. "Steely Dan with balls?" Those veterans can live with that moniker.

The line-up continued to play live until 2008. For one year, Adrian Askew was replaced by Ingo Bischof, a German keyboard legend in bands such as Kraan and Karthago, and – what goes around – Alex was happy to have his old Rosebud mate Holger Trull back on board, playing bass. In 2009, Mike Starrs parted on good terms from LAKE, and Ingo Bischof went back to his own professional projects. The new front man and lead singer was Chris Thornton jr – he has been on tour with T.M. Stevens and was a member of Alex´ former retro rousers Rudolf Rock & Die Schocker. On keyboards is now Jens Skwirblies who played with Ian Cussick´s band for years and also backed Toto singer Bobby Kimball.

In February 2010 the group was offered the unique opportunity to play as back-up for the legendary Lynyrd Skynyrd band on their tour through Germany. So Alex Conti was on stage once again with those boys from the South of the USA – for the third time in his long career. And the following gigs were just as spectacular – performances with Foreigner, Manfred Mann's Earth Band, Uriah Heep and Joe Cocker.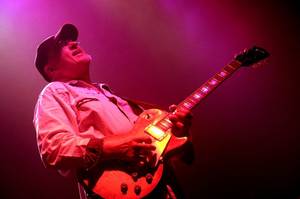 What goes around comes around – and since December 2012 the very first vocalist of LAKE has rejoined the band. Ian Cussick is back again!